July Kids School Holiday Carnival
Posted on Thursday, 10th of July 2014
FROM 28 JUN TO 13 JUL, 2014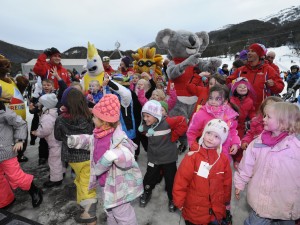 July School Holidays
Tuesday 1st, Wednesday 2nd, Saturday 5th July
Tuesday 8th, Wednesday 9th & Saturday 12th July
Friday Flat
Free
Back again to Thredbo, the very popular Kids School Holiday Carnival is all about the family and allowing some extra time on the snow with the added activities. Every Tuesday, Wednesday and Saturday during the two weeks of the July school holidays, Friday Flat comes to life under the evening sky with activities, fire pits, music, twilight riding as well as the bistro staying open for food and beverages. There will be an array of music, dancing and Thredboland animals with prizes galore to keep the kids entertained.
It is the perfect opportunity for families too ski together with Twilight Skiing on Friday Flat until 7pm.
The Thredbo village bus will operate to continue to transport people around the village, as well as Friday Flat Sports for all your retail, hire and locker needs.
Recommended Blog Posts?
Thredbo Winter Weekends
Thredbo Winter Weekend FunThe Snow is here for winter 2014 and we still have plenty of Thredbo Winter Weekends available.  A weekend trip to the mountains used to be about a late start after work and drive to the mountains to fit in a couple of days on the hill.  We...
Read More
The skimag demo weekend
FROM 26 JUL TO 27 JUL, 2014When: Saturday 26th & Sunday 27th JulyWhere: Bottom of SupertrailHow much: Registration FeeTime: From 8.30 amCost: $30 gets you registered for two days of demo or $20 for one day. Every registration includes a 1 year subscription to SKImag.Registration: Register on the day...
Read More