Posted on Tuesday, 1st of July 2014
FROM 14 JUL TO 18 JUL, 2014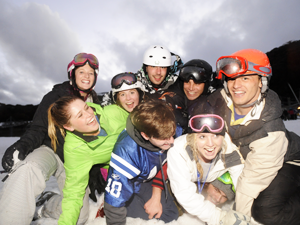 Monday 14th to Friday 18th July
Thredbo Resort
How much: Activities and Parties are free
Get ready and get set for Uni Week 2014 to hit Thredbo from the 14th to the 18th of July.
University students will descend on Thredbo from all over the country for one jam packed week of skiing, boarding, Uni Games race training, partying and apres.
Develop your freestyle skills in Thredbo's new terrain park, hit the rails, race slalom, practice moguls, attack the Big 5 – Australia's longest runs, explore the cross country trails, try twilight riding, go tubing, make snow angels in our new snow play area, and continue the festivities off the slopes in style. There's no doubt, you're getting bang for your hard earned bucks in this year's stellar line up of adrenaline pumping action.
EXCLUSIVE UNI WEEK 5 DAY LIFT PASS, ONLY $299 – LESS THAN $60 PER DAY
Recommended Blog Posts?
June Snowfalls in Thredbo take the L.O.T. Index off the chart.
The L.O.T.Index PeakingIt is always hard to tell exactly how much snow fall we get in Thredbo Village out of any one storm.  You need to find a reliable indicator that always delivers a consistent story without being affected by wind.   At the Lantern Thredbo Apartments we have...
Read More
Thredbo July Weekend and Midweek Deals on now.
'snow boundaries in ThredboWith the best  June Snowfalls in a decade Thredbo snow conditions are looking excellent for July.  The Lantern Thredbo Apartments still has a few weekends available and plenty of weekend and mid week gaps so we are offering some great special rates with savings of up to 25...
Read More