Thursday family night at Friday flat
Posted on Wednesday, 11th of June 2014
FROM 26 JUN TO 25 SEP, 2014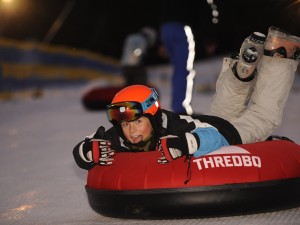 Every Thursday starting on Thursday 26th June to Thursday 25th September
Friday Flat
Activities are Free – Kids need to purchase LED flares
A highlight of the week in Thredbo is the Thredbo Family Fun Night that incorporates the ever popular and always bright and sparkly Kids Flare Run.  Every Thursday, the fun kicks off at 4pm with kid's entertainment and the Thredboland animals come out to play and dance. As the sun sets, the kids are loaded onto the Easy Does It Chairlift (no adults, kids are accompanied by snow sport instructors) ready to descend the gentle slopes with their own twinkling, flashing flares much to delight of the family and friends watching on.  As all the kids reach the bottom, there is a fireworks display.
The fire pits will warm you, beverages are available from Friday's Bistro, there's music and the adrenalin pumping snow tubing course will be open (weather permitting). There are great prizes for the kids and there will be LED flares as well as other mystic lighting products for sale on the night from the pop-up retail store next to the stage. Once the Kids Flare Run and fireworks are done the slopes are open to ride until 7.00 pm.
The Thredbo village bus will operate to continue to transport people around the village, as well as Friday Flat Sports for all your retail, hire and locker needs.
Recommended Blog Posts?
Smirnoff snowdome at Thredbo
FROM 08 JUN TO 13 SEP, 2014Slide off the snow and into your very own Snow Dome. This outdoor bar- DJ booth is located at the base of the mountain. This on snow pop up bar will have the best DJs, drinks and incredible light show activations - complete with astonishing projections...
Read More
Thredbo freestyle series rails
28 JUNE, 2014When: Saturday 28th JuneWhere: Friday FlatsHow much: Registration Fee - TBCThe Thredbo Freestyle Series is back, looking to crown the overall winners in each category as athletes compete over five events to claim the title. Each event will have a unique set-up allowing competitors of all levels to participate...
Read More