Thredbo freestyle series rails
Posted on Wednesday, 11th of June 2014
28 JUNE, 2014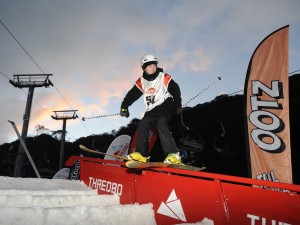 When: Saturday 28th June
Where: Friday Flats
How much: Registration Fee – TBC
The Thredbo Freestyle Series is back, looking to crown the overall winners in each category as athletes compete over five events to claim the title. Each event will have a unique set-up allowing competitors of all levels to participate in the competition with seasoned pros as well as riders just starting out. This is a great way to compete with your favourite athletes and push your own riding.
This year sees a new terrain park venue, the new Superpark. Thredbo's terrain park crew will be creating a great comp set-up that is sure to showcase the park line-up
Rails
Rails will go down under lights with a live DJ playing while athletes conquer the uniquely built features on Friday Flat. The set-up will cater for all levels of rider. This will be the first stop of the series with athletes collecting points to the overall series champion. The night is always an awesome spectacle and one to come and enjoy.
Schedule:
3.30 pm – Bib collection onsite
4.00 pm – Training starts
5.30 pm – Competition starts
Recommended Blog Posts?
Thursday family night at Friday flat
FROM 26 JUN TO 25 SEP, 2014Every Thursday starting on Thursday 26th June to Thursday 25th SeptemberFriday FlatActivities are Free - Kids need to purchase LED flaresA highlight of the week in Thredbo is the Thredbo Family Fun Night that incorporates the ever popular and always bright and sparkly Kids Flare Run...
Read More
Rossignol demo weekend at Thredbo
FROM 28 JUN TO 31 AUG, 2014 When:Saturday 28th & Sunday 29th JuneSaturday 2nd & Sunday 3rd AugustSaturday 9th & Sunday 10th AugustSaturday 30th & Sunday 31st AugustWhere: Bottom of SupertrailHow much: FreeTest the latest and greatest in ski and snowboard equipment with one of the world's best ski...
Read More